"Burst: The 1958-'60 Sunburst Les Paul Standard By Jay Scott and Vic Da Pra Preludes by Jimmy Page and Peter Green .This fully illustrated book examines the history of the world's most famous solidbody electric guitar. From the moment Gibson decided to drop the sparkling gold finish from the slow-selling second-in-line solidbody until its decision to drop the guitar altogether, Scott and Da Pra look at nuances and details that make the Burst the most sought-after collectable guitar today.

Get your copy of the best Vintage Les Paul book on the market, Vic Da Pra and Jay Scott's "Burst".
Autographed by Vic Da Pra for only $24.95.

You could call us at 412-941-6575 USA or E-mail us to ask a question, tell us a comment or order merchandise (Order form on the way).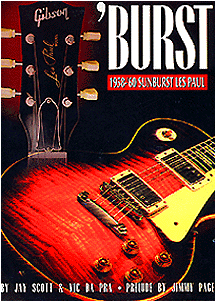 Home